Posted on 13. Apr, 2007 by Tomas Wennström in Uncategorized
hej! 2007 is one of the first web 2.0 conferences in Sweden. It is arranged by a group of creative souls from Singapore, who have fallen in love with Sweden. In today's podcast I interview Sriram and Ruiwen, two of the guys from the organizing committee behind the conference.
Why arrange a web 2.0 conference in Stockholm and Sweden? Cause Stockholm, for some reason, hasn't really felt the web 2.0 hype yet, they say.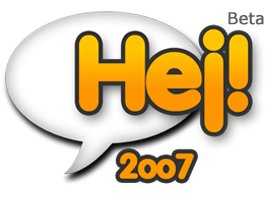 Since the recording of this podcast, it has been decided that also Whatsnext.se will join the conference. I will publish interviews with both speakers and audience.
I hope I will meet you there. Registration (free) can be done here.
If you feel for getting interviewed, or think someone else at the conference should, please drop me a mail at [email protected]

Podcast: Play in new window | Download