Posted on 26. Apr, 2010 by Kristin Heinonen in Uncategorized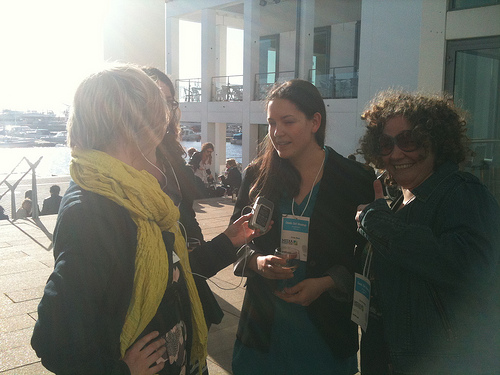 I helgen gick Geek Girl Meetup Öresund av stapeln i Helsingborg, en fullspäckad unconference på temat Action and Solution in a Geeky Way som lockade 90 GeekGirls.
Efter en dag med sessions och workshops om allt från C# och öppen data till hur man tjänar pengar på podcasting avrundades södra Sveriges hittills största GeekGirl-event med ett glas vin i strålande eftermiddagssol med havsutsikt. Samtidigt samlade What's Next en panel med representanter från bägge sidor sundet för en roundup och summering av dagen.
I panelen:
Karin Høgh, podcastingkonsult, Podconsult.dk
Henriette Weber, grundare av social web agency Toothless Tiger och författare till "Return on involvement – how to use social web to create business unusual".
Emilia Blom, Hyper Island / User Experience Designer på Good Old
Marie Gustafsson, lektor i datavetenskap vid Malmö högskola
P.S. Kolla gärna in Henriette Webers projekt med att crowdfunda och omvandla en gammal båt till ett flytande coworking space!
Host: Kristin Heinonen

Podcast: Play in new window | Download